PO Box 75, Halls Gap VIC 3381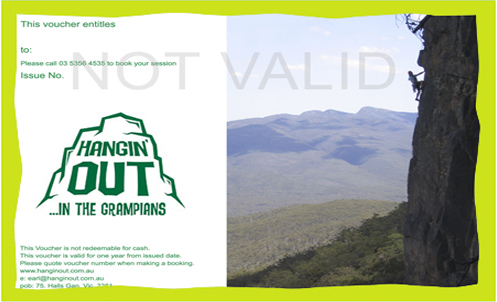 Ask about Hangin' Out
Gift Vouchers
Give someone special the gift of adventure!
December 8th, 1:29 pm
Next year we welcome OutBeyond and look forward to working with their team to provide the climbing component to the programs here in the Grampians and Arapiles.
Here's a little clip from a recent trip showcasing the Grampians! ... See MoreSee Less
May 25th, 11:57 am
Such a great photo of Jess from Ararat Physiotherapy who at had no intention to "step out of her comfort zone" when we met at the car park!
And she didn't......Rather, just expanded her comfort zone!
Such a great smile.
Whats next Jess?Last weekend our Physiotherapist's attended a professional development course in Halls Gap.
We learned more about treating shoulder injuries and further improved our skills that will benefit our clients.
Sunday morning we did a little team bonding and took part in rock climbing. It was a first for many in the group.
A big thank you to Earl from Hangin' Out in the Grampians for helping us to face our fears. ... See MoreSee Less
May 25th, 11:50 am
Thanks to Tourism Australia for organising these two characters from BuzzFeed, sent around our magnificent country to showcase the best places to go and things to do. Help spread the Hangin' Out name, please watch and share this well edited and humorous clip.😀

BuzzFeed Mates
Challenge your fear of heights! // Hangin' Out in the Grampians ... See MoreSee Less
March 2nd, 5:09 pm
Who doesn't like change or doing something different!?
Recently Hangin' Out was asked to oversee a safe voyage on a site visit to the becoming infamous "Edge of the World", which will become part of the epic Grampians Peak Trail. Our main purpose was to set safety ropes for the team including Parks Victoria staff and Glenn Berrill and co, from Thompson Berrill Landscape Design and the geo-tech who needed to assess the cliff integrity for a very bold and most amazing "Airwalk"! This will be a 40-60 meter platform that skirts the majestic cliffs on the Mt Difficult Range.
With Glenn Berrill designing this, the end result will surely be an amazing piece of engineering bringing a unique experience and perspective along the Peaks Trail. ... See MoreSee Less
February 13th, 5:26 pm
I love my job; Makes it even more satisfying when I can organise something special and rig 2 year old Tilly on her fathers' back. Thanks to Cass Trent Johnston from Dynamite Cycles Buninyong for giving us the opportunity to make it an extra special day for us all! ... See MoreSee Less
February 1st, 2:42 pm
Henry Green's first climb was in 2002 shortly after starting my business, when Henry was 5yrs old! What a pleasure to take him climbing again, now at 20 years old. It has been very grounding; I suddenly feel my age, though also proud that I have been able to stay in business this long to see a child develop into a man! ... See MoreSee Less
October 11th, 3:41 pm
Only one way to go now!
Down....or was it up. ... See MoreSee Less
October 11th, 3:37 pm
This photo was taken 15 years ago! Daisy and her family were some of my first 100 customers! A post of her brother Henry climbing with me again this year will preview soon! ... See MoreSee Less
October 11th, 3:25 pm
So glad the warm weather is with us now!Hangin' around in the Grampians today! Was freezing cold but had a good crack for our first time rock climbing outdoors in such a spectacular spot! ... See MoreSee Less
October 11th, 3:24 pm
6 year old Daisy, hangin' out with Earl. ... See MoreSee Less

PO Box 75, Halls Gap VIC 3381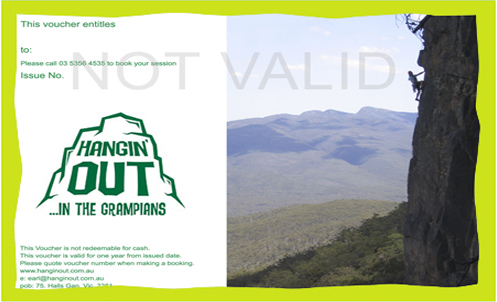 Ask about Hangin' Out
Gift Vouchers
Give someone special the gift of adventure!
December 8th, 1:29 pm
Next year we welcome OutBeyond and look forward to working with their team to provide the climbing component to the programs here in the Grampians and Arapiles.
Here's a little clip from a recent trip showcasing the Grampians! ... See MoreSee Less
May 25th, 11:57 am
Such a great photo of Jess from Ararat Physiotherapy who at had no intention to "step out of her comfort zone" when we met at the car park!
And she didn't......Rather, just expanded her comfort zone!
Such a great smile.
Whats next Jess?Last weekend our Physiotherapist's attended a professional development course in Halls Gap.
We learned more about treating shoulder injuries and further improved our skills that will benefit our clients.
Sunday morning we did a little team bonding and took part in rock climbing. It was a first for many in the group.
A big thank you to Earl from Hangin' Out in the Grampians for helping us to face our fears. ... See MoreSee Less
May 25th, 11:50 am
Thanks to Tourism Australia for organising these two characters from BuzzFeed, sent around our magnificent country to showcase the best places to go and things to do. Help spread the Hangin' Out name, please watch and share this well edited and humorous clip.😀

BuzzFeed Mates
Challenge your fear of heights! // Hangin' Out in the Grampians ... See MoreSee Less
March 2nd, 5:09 pm
Who doesn't like change or doing something different!?
Recently Hangin' Out was asked to oversee a safe voyage on a site visit to the becoming infamous "Edge of the World", which will become part of the epic Grampians Peak Trail. Our main purpose was to set safety ropes for the team including Parks Victoria staff and Glenn Berrill and co, from Thompson Berrill Landscape Design and the geo-tech who needed to assess the cliff integrity for a very bold and most amazing "Airwalk"! This will be a 40-60 meter platform that skirts the majestic cliffs on the Mt Difficult Range.
With Glenn Berrill designing this, the end result will surely be an amazing piece of engineering bringing a unique experience and perspective along the Peaks Trail. ... See MoreSee Less
February 13th, 5:26 pm
I love my job; Makes it even more satisfying when I can organise something special and rig 2 year old Tilly on her fathers' back. Thanks to Cass Trent Johnston from Dynamite Cycles Buninyong for giving us the opportunity to make it an extra special day for us all! ... See MoreSee Less
February 1st, 2:42 pm
Henry Green's first climb was in 2002 shortly after starting my business, when Henry was 5yrs old! What a pleasure to take him climbing again, now at 20 years old. It has been very grounding; I suddenly feel my age, though also proud that I have been able to stay in business this long to see a child develop into a man! ... See MoreSee Less
October 11th, 3:41 pm
Only one way to go now!
Down....or was it up. ... See MoreSee Less
October 11th, 3:37 pm
This photo was taken 15 years ago! Daisy and her family were some of my first 100 customers! A post of her brother Henry climbing with me again this year will preview soon! ... See MoreSee Less
October 11th, 3:25 pm
So glad the warm weather is with us now!Hangin' around in the Grampians today! Was freezing cold but had a good crack for our first time rock climbing outdoors in such a spectacular spot! ... See MoreSee Less
October 11th, 3:24 pm
6 year old Daisy, hangin' out with Earl. ... See MoreSee Less